Family adventures in Italy: Rome and the Amalfi Coast History, Volcanoes and Pizza
This amazing trip starts in the Eternal City: Rome. We will walk around the most famous monuments of this Antique city and cycle along the Antique "Via Appia" passing old aqueducts and in the middle of wild nature to discover another side to this fantastic city. From Rome, a short train ride will lead us to the picturesque Amalfi Coast, a region of steep cliffs and sheltered coves, with numerous small towns interspersed by terraced farmland where olive and lemon trees are grown. The Isle of Capri is next on the route, with the chance to explore its villas, gardens and splendid coastline. We then visit the fascinating remains of the Roman town of Pompeii and also enjoy an easy walk to the summit of Vesuvius (1280m). As a splendid finale, we have 3 days of hiking on ancient mule tracks above Amalfi, including the spectacular 'Walk of the Gods', which leads down from Agerola to the lovely fishing village of Positano. This is an easy walking holiday week, with a real flavour of Italy. Children will love the traditional family culture of this region allowing them to get involved in different local activities, with some easy hikes, time for enjoying beaches and the local Italian cuisine.

Highlights:
- Rome, the Eternal City
- Mount Vesuvius and Pompeii
- Boat excursions around Capri and Positano
- Pizza making and Ceramic painting

Daily itinerary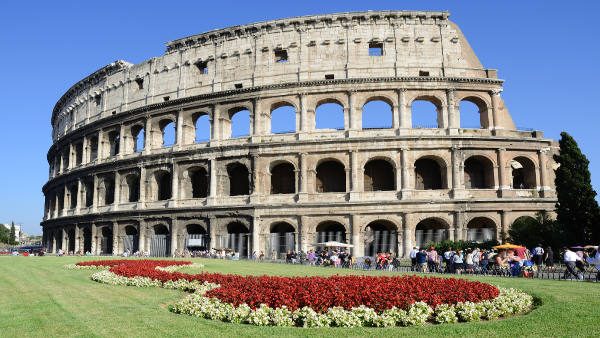 Day 1: Arrival in Rome
The group will rendezvous with the guide at the hotel in the centre of Rome at 6pm. After settling in, we have a briefing from our guide on the week's activities. Dinner and overnight in a restaurant. Meals (-/-/D).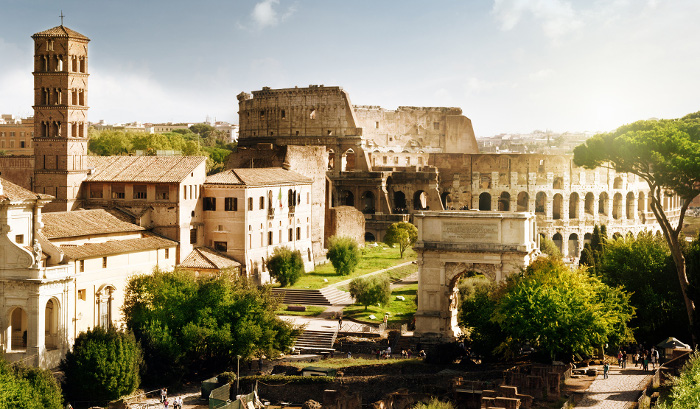 Day 2:
Walking and cycling Rome
(2hrs walk and 2hrs cycling)
In the morning, city trek in the centre to discover all the fascinating beauty of Rome: the Coliseum, the Trevi fountain and Piazza di Spagna...we will have a look at all the classics of this monument packed city. After lunch, we discover another side to the city but this time by bike: the regional park of the Via Appia is full of surprises. Back to our hotel, where dinner is not included. Meals (B/L/-)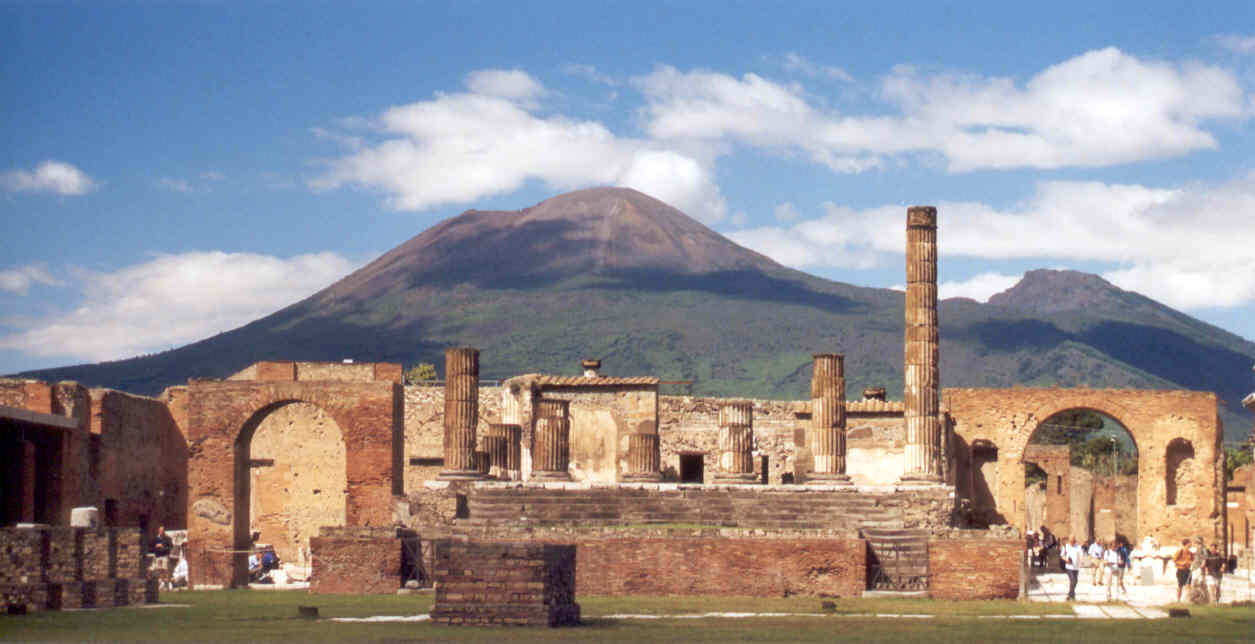 Day 3:
Climb Vesuvius and make an authentic Neapolitan pizza
(2hrs walk +150m -150m)
Transfer by train to Naples, then by minibus to Herculaneum where we will have a typical lunch in a family run wine factory. After a short visit of the wineries, we will make our way up to the sleeping giant. We can look right down into the steaming crater and imagine the eruption of 79 AD, when huge flaming boulders were hurled all the way to the Bay of Naples! The excursion to the crater and back will take around 2 hours. Then we transfer by minibus to our accommodation in Agerola where we will have a lesson on how to make the perfect Neapolitan pizza with our chef Nicola. Meals (B/L/D)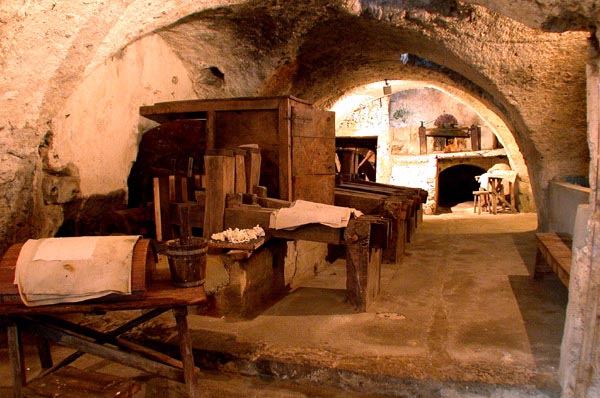 Day 4:
Amalfi and the paper museum
(3hrs walking +350m)
In the morning transfer by public bus to Amalfi. Visit of the village, once a powerful maritime republic, founder of the Amalfi Tables, the oldest maritime code in the world. After an interesting visit to the paper museum, we start our walk through the delightful Valle Mulini, literally 'valley of the mills' as this was once the centre of an important paper industry on the Amalfi coast. We then reach Ravello, a very picturesque and peaceful village located high on a cliff overlooking the sea, where we have some free time to explore the village and to taste the local "gelato". We go back to Agerola by public bus. Dinner and night in Agerola. Meals (B/L/D)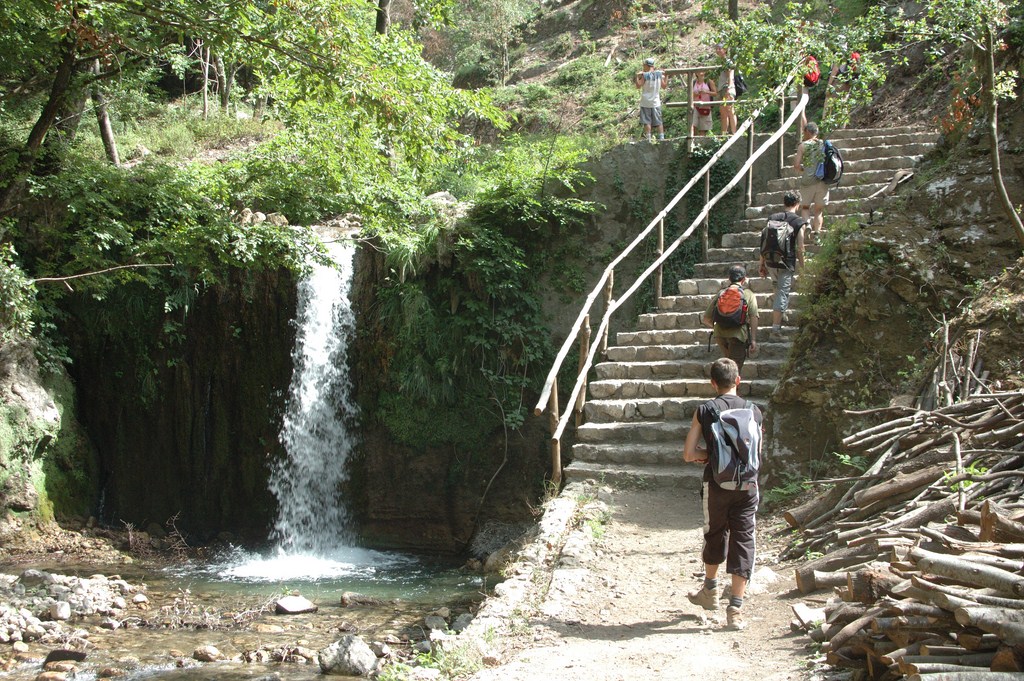 Day 5:
Explore Capri Island
(optional walk 2hrs +200m -200m)
This morning after breakfast, we head down by public bus to the harbour of Amalfi to catch a boat for a mini cruise to the Isle of Capri. A stepped path leads to Capri's most famous and picturesque lanes, the Via Tragara. Optional walk offering spectacular views of Capri's iconic limestone stacks known as the Faraglioni rocks or free time to wander the fascinating streets, to enjoy a dip in the sea or boat tour to the "Blue grotto", a spectacular sea cave. In the afternoon we return to Amalfi where a private minibus will take us back to Agerola. Meals (B/L/D)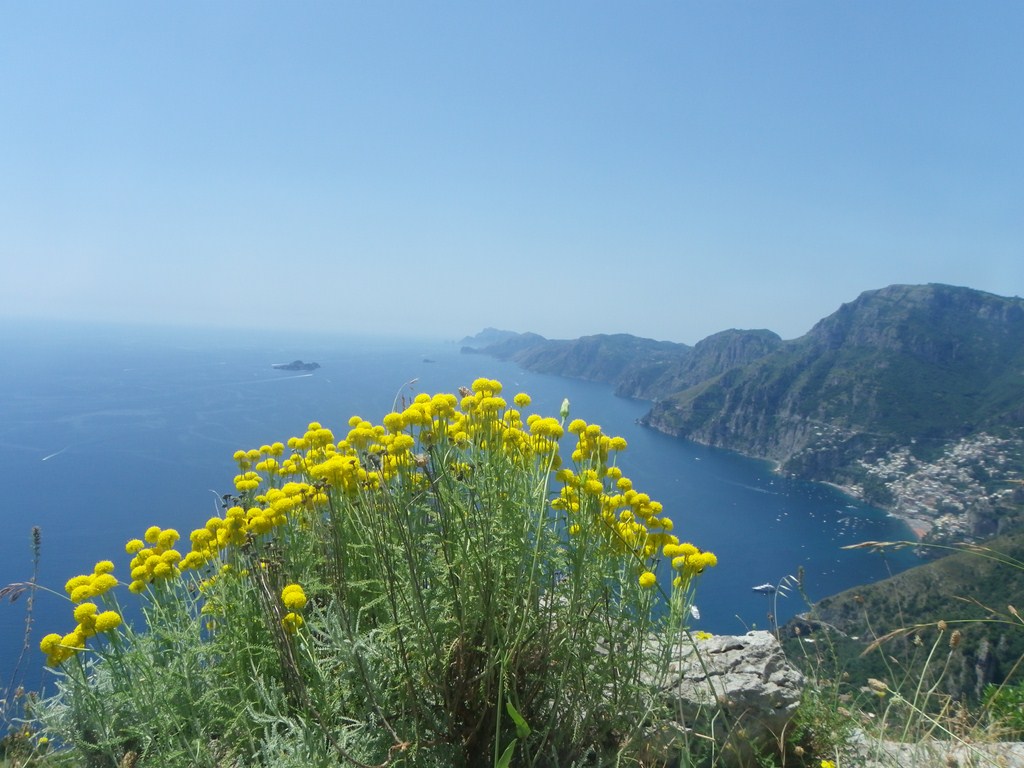 Day 6: Pompeii and ceramic painting
(1hrs 30min walking)
Transfer by public transport to Pompeii to visit this ancient Roman town. Everyone knows the story of Pompeii, buried under ash for 1700 years after a catastrophic eruption of nearby Vesuvius, but to actually walk around and see this incredible sleeping city is quite another story. You will pay the entrance fee to Pompeii (approximately €11). In the afternoon, we transfer by public bus back to Agerola where we will watch how to make ceramics in a workshop and go back to the hotel with a little souvenir. Dinner and overnight stay in Agerola. Meals (B/L/D)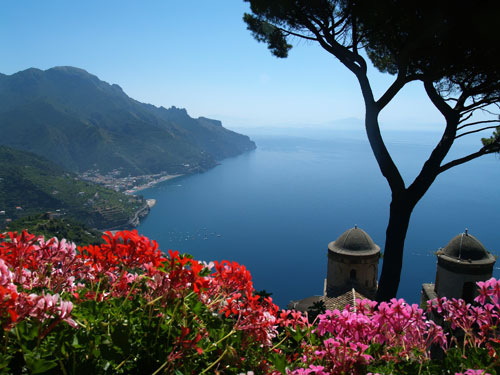 Day 7: Hike the 'walk of the Gods', boat trip from Positano to Amalfi
(2hrs 30min walking +50m -260m)
Today we hike the "walk of the Gods", an ancient terraced mule path linking Agerola to the village of Positano, a small and charming fishing village. We start our walk in Agerola and reach the tiny village of Nocelle, where we will stop for a picnic. Then, a short ride bus will take us to Positano, where we will have plenty of time to discover the village and enjoy the beach. Depending on the weather conditions we have the option of returning to Amalfi by boat, before returning by private minibus back to Agerola. Meals (B/L/D)

Day 8. Departure from Agerola
After breakfast end of services. You have a single group transfer back to Naples airport or Naples train station. Meals (B/-/-)
Note:
B (Breakfast); L (lunch); D (dinner)
Grade:
easy because little gradient and hikes of 3 hours maximum. However the coastal paths practiced daily and village to village include leading time many stairs and steps of various and irregular sizes. Walking sticks can be welcome relief for your knees.
Accommodation:
based on twin/triple/quadruple room:
- 2 nights in hotel*** in Rome in the city center
- 5 nights in hotel*** in Agerola on half board basis
Equipment:
trekking shoes, waterproof jacket, water bottle 1 liter minimum, hat and sunglasses, bathing suit, sunscreen (face and lips). During this trip transfers are provided by public bus and train, so you have to walk with your luggage to get to the train / bus stations. So travel light and with a roller bag if possible.
Getting there:
the destination airport in Rome. Several trains and buses connect the airport to Rome city center.
Appointment with the guide at your hotel in the center of Rome at 18pm. The last day, group private transfer to Naples airport.
Supplements price per person
Departures in July €60
Departures in August €120
Single Room Supplement €120
Reduction for child sharing the room with parents (triple/quadruple room) €30/€50
Included:
- All transfers using private or public train/buses as described in the itinerary
- bike hire in Rome
- Hydrofoil to Capri and boat excursion from Positano to Amalfi
- accommodation in hotel***, breakfast included
- all Dinners (except day 2)
- all picnic lunches (except day 1 and 8)
- English speaking guide
- ceramic workshop
- Pizza making and visit of the paper museum in Amalfi
- entrance ticket for Vesuvius
- city taxes
Not included:
- lunches on day 1 and day 8
- dinner on day 2
- entrance fee for Pompeii (free for under 18 and over 65)
- All beverages
---